I started sitting Yusef in our old walker that we have. As you can tell he likes it quite a bit...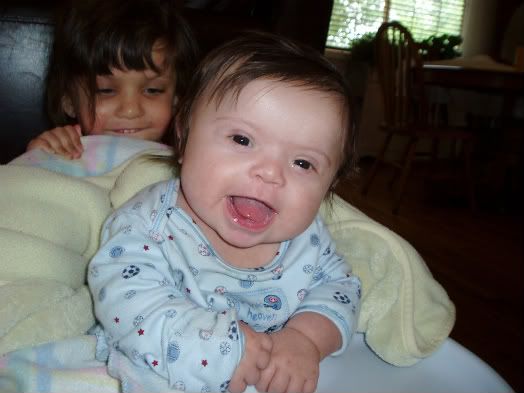 (someone else had to sneak in the pic)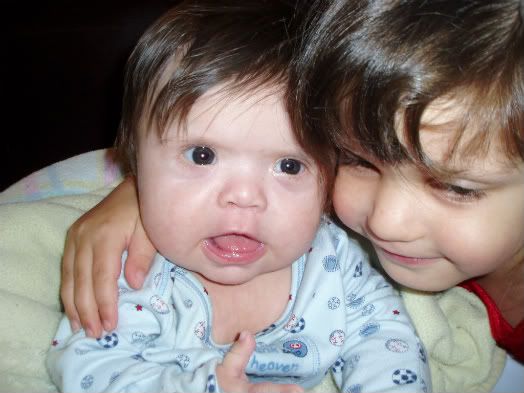 Reaching out for a toy:
The only problem is I have to stuff a bunch of blankets in around him to support him and put some pillows under his feet. I was mentioning this to his OT and she suggested we get a bumbo seat.
Well it just so happens we have one that my SIL gave us. I really didn't know what it was for at first; I thought it was just some kind of weird looking booster chair or something. I thought he still might be a little small for it, but it's shaped in a way that's really supportive.
Isn't that just the cutest thing. He get's to sit up among the other kids just like a big little man. Eventually, he sometimes kind of leans to the side and then I have to reposition him.
It really good excercise for him. I think it's good to further develop trunk and neck strength. He doesn't seem to tolerate it for more than 30 minutes or so. It's alot of work you know!
And on to other cuteness. Yusef played with his new baby friend Norah today.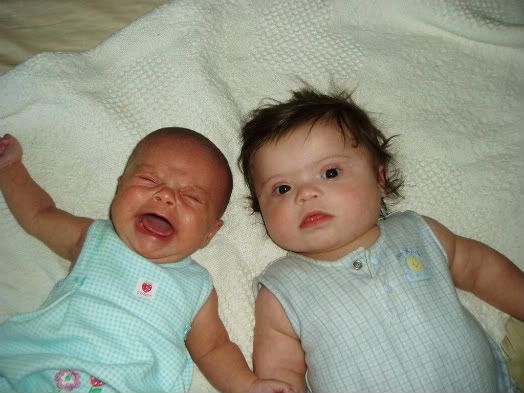 Obviously, she wasn't too happy about having her pic taken, and he's wondering what all the commotion is about.
Ahh, all is copacetic again. Aren't they just too adorable? And can you believe how long Yusef's hair is? There's definitely a trip to the barber's in his near future!